This course is fully certified and accredited by the ANLP (Association of Neuro Linguistic programming) & AIP (Association for Integrative Psychology). For coaching purposes, it's accredited via Comensa, ICR and The Coaching Society. You can also gain CPD points from attending.
Deposit & Registration Fee £300: The deposit also gets you your pre-study course audio materials plus manual. It's now a four day and six day module course, starting 14th -17th May. The next session will be June 18th – 23rd.
Please Note: The remaining balance to pay is due one week before you start your training.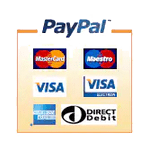 At NLP World, we use PayPal as our payment gateway provider. As a trusted online payment system, PayPal helps to keep your transactions secure.
No PayPal Account?
If you do not have a PayPal account, you can still pay by using either your Credit or Debit card.
On the following form, you will see a section with a link saying "Don't have a PayPal account?".
You can click on the link to pay using your Credit or Debit card as a PayPal "guest", without needing an account.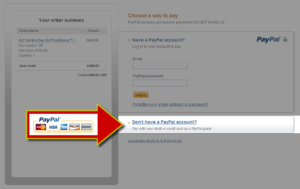 Paying For A Course in Installments?
Watch this quick video.

For more help with booking, call us now on +44 (0) 844 057 0392