Description
Further Information
[toggle title="Two Day NLP Taster Training Registration: Deposit" open="no"]
Deposit & Registration Fee £250: The deposit also gets you your pre-study course online video/audio materials plus your NLP training manual.
Bursary Available: Please contact Terry Elston and give your reasons you can apply to be here
[/toggle][toggle title="Two Day NLP Training Registration: PayPal Information" open="no"]
At NLP World, we use PayPal as our payment gateway provider. As a trusted online payment system, PayPal helps to keep your transactions secure.
No PayPal Account?
If you do not have a PayPal account, you can still pay by using either your Credit or Debit card.
On the following form, you will see a section with a link saying "Don't have a PayPal account?".
You can click on the link to pay using your Credit or Debit card as a PayPal "guest", without needing an account.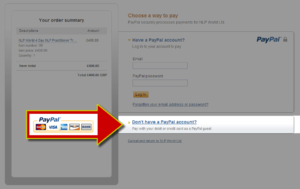 [/toggle]
If you're now ready to book your Two Day NLP Training Course, you can click on the "Book Now" button above to start the registration process.
[note class="info"]Alternatively, you can also complete your Twp Day NLP Training registration by calling us on: ‭0844 057 0392‬ (UK).[/note]
Other Courses
[my_product_titles category="accredited-nlp-training" orderby="desc"]