Well, that's a title huh? How does NLP and your spirit come together in one sentence? One of the properties I love about NLP is its abilities to denominalize. What I mean by that is to take a word, noun or institutionalised cliché and take it back to its grounding or root/home.
So we'd better take a look at the word spirit first because we can have several different meanings to that.
What I mean by spirit is the energy that is particular to you, yourself. We all have our own personal energy fields and that energy is what keeps us alive. This energy is simply a translation of sunlight atoms. Each atom inside you has a particle of sun radiation and that's the very source of your strength, energy levels and ability to exist at all.
The fact is, you couldn't even stand up without an adequate amount of sun energy moving through you! So when you hear about diseases like ME (chronic fatigue syndrome) where the person has to spend most of the day in bed or lifeless, it's simply that the body is no longer translating these sun particles around efficiently.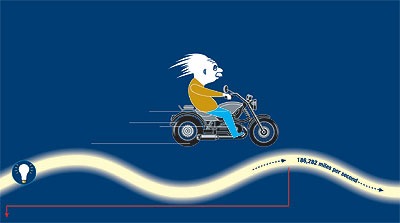 That's part of what I'd call spirit, although technically you could call that your 'energy body'. The other part of spirit would be the part that can manage invisible energy and has intention built into it. This is more abstract and harder to measure than the quantifiable 'stuff' that gets you out of bed. Even so, you and I cannot deny the force of an individual if they want something badly!
This energy can be used like a light bulb or a laser beam. A 60 watt light bulb will light a room quite well, yet if you concentrate all this energy into a beam it can cut through steel! What I am eluding to here, is that energy is behind every thought and action in your life. In physics, energy or light, moves in circles. In other words it's curved. This means that every thought (which is also energy) will come back to you eventually to be qualified or to pay its return visit.
In your evolution as a human, your spirit is being refined, day by day. Your thoughts and actions can evolve the more aware and conscious you are about them. What this equates to is a wonderful life. At the very least a conscious life with you at the steering wheel.
In an NLP training (I can talk for NLP World and perhaps a few others), you'll get the chance to make a quantum leap in your ability to clear out old issues that have interfered with your energy path. Of course, you are being trained to assist others and begin mastery with language, yet in this week, you'll start to realise that all your memories can be redefined and reframed to assist you, rather than the old emotions on them dictating your moods in certain situations.
Also you begin to see that limiting beliefs can be taken away, phobias, habits and ideas can be reformed giving you the energy back that was taken away with them.
I recently worked with a young girl who had a serious problem in school and couldn't stay in the classroom for more than 5 minutes without feeling very unwell. If you can imagine how much energy she was losing and then effecting her family as well, then you'll see how NLP came to the rescue! I spent only three session with her and her mother exclaimed that she has become like another girl..in fact changed into a young woman with all the changes that occurred.
Where I am going with this article is to underline that it's not just change that's happening when we work deeply with others or on a training course…it's an entire energy refinement that is assisting your development of who you are!
That's why, when people leave my courses, they don't normally talk about how well they've been trained or the NLP skills per se (of course they have been extremely well trained in NLP), they normally express their gratitude for the development they've just experienced. Here's a few;
"I've attended a great many trainings in my role as CEO of a City Communications business and none have got close to the sequence of deep learning's about myself I have experienced from this training. A big thank you!"



Robin Johnson – Managing Director Ovationxl executive coaching company
This is to thank you and your team at NLP World for the past week's training ~ words alone (in my case!) cannot express the sense of wonder that I feel at having been introduced into a wider world of thinking. As a new member of the NLP community and the NLP World family, I have a real sense of having come home, and I look forward immensely to going wherever my voyages lead me, knowing that I will always be safe and that I have a home to return to. Many thanks for all that you gave to all of us ~


Liza Kirwan – Artist & Voyager
"I have grown, changed and improved myself so much over the sum of just one week. It has been a true and remarkable experience. For your expertise, energy and love! Thank you so Much!!"


Nick Penny – Accountant
"It seems a long time since my practitioner course in August. I'm happy to say that it was the best investment of time and money I've ever spent and has exceeded my expectations.My outlook on life has changed very much for the better. The most obvious change since August was one I wasn't really expecting..finding that NLP is so much more than the toolkit and modeling technique I thought it would be. I find it a very natural and complimentary mindset and attitude that has helped in every aspect of my life."


Stephen Smith – Aviator
Hopefully, I have demonstrated that the most important thing about a persons life is to take care of the energy body and what I have been calling here spirit as well. That comes from doing the work with yourself to clean up old issues, ;et habits fade away and refine these areas so that good clean energy can flow and the spirit be upheld.
Then you'll see how easy it is for your intentions to manifest in a good way and how you can experiment with the Laws Of Attraction to have a self actualised life.
This is how NLP and the Spirit are coupled.