NLP Practitioner Standards
When You Are Looking for an NLP Practitioner Affiliation Body, Who Are ANLP, AIP, COMENSA, ICR, CPD, ABNLP, INLPTA,
or Other Affiliation Bodies, and What Do They Stand For?
"What is NLP Practitioner Certification or NLP Practitioner Affiliation?"
"Which NLP trainers, NLP training schools, or NLP trainers are certified?"
"Which accredited NLP courses should I look for?"
These questions are often asked by people wanting to study NLP. The following page attempts to answer some of these questions and provides details of the current schemes available.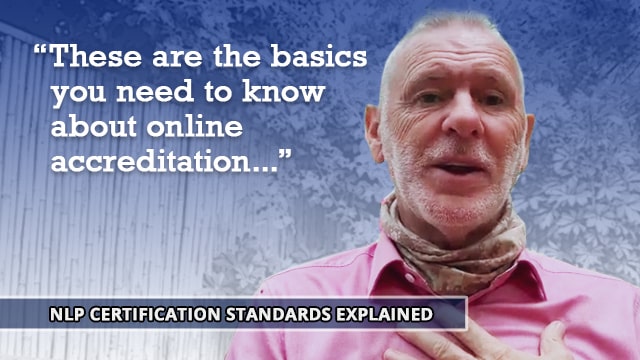 What is an NLP Practitioner Certification?
When you take an accredited NLP Practitioner Training, which fulfills the criteria for a 'proper' NLP course, you can gain the title "NLP Practitioner". Any other title does not count. It's a bit like trying to buy freshly squeezed orange juice. Some companies like to trick you by announcing their juice as "natural" or "cold-pressed". If orange juice has not been extracted in the right way, with no heating, etc. the company can not use the label "freshly squeezed".
You can view the curriculum of NLP here – NLP full curriculum
In the world of NLP training, there is no official government or legal affiliation, certification standard, official course content, duration of the training, or levels of competency (this applies within the UK and outside).
There are a number of groups, organizations, associations, boards, and bodies that have set up their own standard by creating certification/affiliation schemes in order to reflect how they believe NLP should be taught and practiced. These organizations often differ in their opinion. Each organization has a different judgment and none are mandatory to join or achieve training through. Many training providers choose not to affiliate themselves with any certification or affiliation bodies.
Certification and Affiliation have, for over 20 years, been debated within the field as to how it should be organized and structured, thus there are many varying models. Confusion often arises from the public when trying to decide on which NLP training provider to train with or which training provider has the 'right' certification/affiliation scheme and is recognized by which group. The simple answer is that there is currently no 'right answer. It's all down to personal choice after consideration.
There are many organizations that promote NLP or recognize the many different companies and have different standards; so how do you know what they stand for?
Even the research that's out there is mostly out of date, so in the huge playing field, who can you trust, and what are the standards?
We will give you some information here that we intend will help you sort out your own thinking towards the kind of companies you can trust or not.
Let's start with ANLP, who are based in the UK and are an international standards body.  ANLP offers an independent accreditation programme for NLP Trainers, NLP Practitioners, and those wishing to run accredited NLP courses . Here's what they say accrediting trainers:
This information is true from October 2021
Accreditation Bodies & Certification Quick Links:
Add a header to begin generating the table of contents
ANLP Accredited & Recognised Trainers Scheme

As ANLP is an independent organization, which is not affiliated with any specific training school, we offer a universal Accreditation Scheme which is open to all certified NLP Trainers.
Any trainer can, if they choose, go through a peer-reviewed accreditation process, where they submit their training manuals and all other information relating to their course management and promotion to an independent ANLP Accreditation Panel for review.
Applicants will be required to demonstrate a thorough understanding of the models, patterns, techniques, and their application in NLP. They will need to demonstrate that they have grasped the underlying attitude and flexibility that constitutes the methodologies of NLP. This will be done through assessment and evaluation.
This program is designed for trainers who require ANLP International Certification. Accreditation and recognition are based on agreement on the Core Syllabus, method of delivery, trainee support prior, during, and after the training, follow up procedures, problem-solving procedures, guarantees and conflict resolution procedures, ethics, promotion materials, and any other issues which may affect the experience, learning, and transfer of skills to a trainee. In particular, ANLP will examine any areas that may adversely affect their good name and reputation.
Website: www.anlp.org/

Phone: +44 (0)20 3051 6740

Email:

Address:
ANLP
Apsley Mills Cottage
Stationers Place
Hemel Hempstead
HP3 9RH
United Kingdom
*Correct as of Dec 2021
ANLP Criteria for an Approved Trainers Of NLP
All NLP Professionals who wish to receive ANLP Accreditation are expected to meet the following minimum Criteria and Core Requirements:
Upon successful application, you will become an 'ANLP Accredited Trainer' and will be able to deliver 'ANLP Accredited Courses'.
All ANLP Accredited Courses must have at least one method for monitoring and evaluating the progress of their students*. These will vary from course to course and can include any one of the following evaluation methods.

ANLP Accredited & Recognised Trainer Application
To apply to be an ANLP Accredited and Recognised Trainer, applicants must submit their training manual, core syllabus, and promotional materials. Applicants will be required to produce at least five testimonials from students trained at least 6 months previously. Depending on the completeness of this information, the Board may request a site visit to gather further information.
When an application is successful, the Trainer becomes an ANLP Fully Accredited or Recognised Trainer (highlighted in yellow on the search ANLP facilities)
An NLP trainer may, for any number of reasons, be awarded Provisional Accreditation as a transient step. This will usually be because the Trainer has wanted to gain Accreditation in principle, based on their application, and before the observation part of the process has taken place.
Qualifying for ANLP Accreditation
To qualify for ANLP accreditation, core NLP courses must be of the following minimum duration:
I would like to congratulate ANLP on their recent development in comprehensive guidelines and standards for NLP Training and Trainers. This is much needed within the field and will aid the credibility of NLP as a powerful technology of communication excellence. It is a pleasure to endorse the standards and I look forward to supporting ANLP as they continue to facilitate members to embed the standards and ethics of quality training.
All Members of ANLP International CIC (Community Interest Company) shall:
Respect the dignity and worth of every human being and their right to self-determination.
Strive to act with integrity, independence, and impartiality, avoiding conflicts of interests and acting in accordance with the presuppositions of NLP.
Represent themselves, their qualifications, experience, and membership of professional bodies honestly, and also (to the best of their knowledge) the skills, qualifications, and experience of any third party to whom they refer any of their clients.
Recognise their scope of practice and only practice NLP within the limits of their competency and to their highest possible standards.
Strive to act within an ecological framework to ensure the safety of their client at all times.
Represent NLP interventions as an option and at no time as a certain solution for any given problem.
Act as ambassadors for NLP, so that it is presented as a professional and effective approach that can help people and organizations; avoiding bringing NLP into disrepute.
Act as ambassadors for ANLP, to promote its purposes and activities to a wider audience; avoiding bringing ANLP into disrepute.
Respect legitimate needs and requirements for confidentiality.
Respect the variety of different styles of NLP and complementary professions.
Promote fellow Members` interests and avoid soliciting other Members` clients away from them.
Ensure that clients` expectations, and the basis on which they will be met, are understood by both parties and that contractual arrangements are not changed without appropriate discussion.
Act within the law and not encourage, assist, or collude with others engaged in unlawful conduct.
Declare to ANLP any criminal conviction (except motoring conviction resulting in points on license), and professional complaint against them or any other matter which may affect their ANLP membership, good conduct, or practice in any way.
Members (above Associate level) have an ongoing requirement to update their skills and knowledge, through Mentorship and/or pursuing recognized CPD requirements
ANLP recommends that no member works with people under the age of 18, or vulnerable adults unless they are specifically qualified to do so and have appropriate clearance with national vetting procedures in their country(ies) of practice.
Click here to see Terry Elston's ANLP status.
To attend an approved ANLP NLP training course then visit our ANLP NLP Practitioner Training Course Page by clicking here.
AIP: Association for Integrative Psychology
What is the Association for Integrative Psychology?

The purpose of the Association for Integrative Psychology (AIP), Inc. is to promote awareness and acceptance of complementary, alternative, and integrative approaches to human behavior as viable ways to facilitate change. 
It was founded in 2005 by Matthew B. James, MA, PhD.
What is Integrative Psychology?
Integrative Psychology is a branch of study and practice that seeks to unite traditional medicine, psychology, and other alternative and complementary approaches. Integrative Psychology studies the affective, cognitive, behavioral, and psychological aspects of human behavior, including social, developmental, and cultural influences. Although in clinical practice one or more of these areas may be addressed, the aim of Integrative Psychology is to facilitate wholeness. To do this, an integrative practitioner addresses the intrapsychic, interpersonal, and spiritual functioning of the individual within the context of their culture.
A variety of disciplines and approaches are represented within the field of Integrative Psychology including: medicine, osteopathic medicine, acupuncture, chiropractic medicine, naturopathic medicine, homeopathic medicine, dentistry, nursing, psychology, social work, sociology, theology/religion, transpersonal studies, anthropology, spirituality, quantum physics, linguistics, hypnosis, political science, education, and many others.
The Association for Integrative Psychology, Inc. was formed to encourage holistic approaches and integration in the fields which study human behavior and its change.
To attend an approved AIP NLP training course, click to visit our AIP NLP Trainers Training page.
Website: www.aiponline.org
Phone: 1-808-731-8393 (US)

Email: 

Address:
The Association for Integrative Psychology, Inc.
10620 Southern Highlands Parkway
Ste 110-228
Las Vegas, NV. 89141
---
Founder: Matthew B. James, MA, PhD. 
Established: 2005.
*Correct as of Dec 2021
What is an AIP Approved Institute Certification?
An AIP Approved Institute (AI) is an AIP approved, certified Trainer who is awarded certification recognition for having a training curriculum and testing that meets or exceeds AIP standards. These AI's are required to have their curriculum and testing periodically reviewed to make sure that their information remains as current as possible and that they still meet or exceed AIP standards.
Benefits of Becoming an AIP Approved Institute
Because our NLP trainings are pre-approved, and attendees identity verified, Graduates only need to send in to AIP a copy of their Completion Certificate, a completed AIP application form, and a payment.
Since AIP Is One (1) Organization That Offers Certifications In Several Modalities.
Therefore, AIP does not market or endorse training to your graduates. Your Graduate Database remains your own.
This is so that AIP's certification process can remain as objective as possible.
ComenSA: Coaches and Mentors of South Africa
What is ComenSA's Purpose?

COMENSA's core purpose is to empower coaches and mentors to make a positive contribution to the people of South Africa.
What is ComenSA's Mission?
Our mission is to support professional practice and learning culture in coaching and mentoring through standards and ethics.
Our vision is to empower people to achieve their full potential in the consciousness of sustainable well-being.
COMENSA's objective is to be the inclusive, umbrella professional association representing the coaching and mentoring professions in South Africa.
As a professional association, we expect and require all our members to operate with the following values: Integrity; Ethics; Accountability; Inclusivity and Professionalism.
Website: www.comensa.org.za
Phone: 010 443 5081 (South Africa)

Email:

---
Established: 2006.
*Correct as of Dec 2021
ICR: International Coaches Register

The certified NLP coach uses NLP techniques in the coach's process.
The compulsory educational requirements apply for all certified NLP coaches:
Alternatively, at the full discretion of the ICR Coach Register, the coach shows proof of an equal knowledge and experience level.
The CPD requirements apply to all certified NLP coaches.
All ICR coaches have to comply with the rules for the right of complaint and disciplinary action, the code of professional conduct, and the procedure requirements.
Website: icr-coachregister.com
Phone: +31 (0)88 0038 745

Email:

Address:
P.O. Box 5530,
NL6802 EM
Arnhem
*Correct as of Dec 2021
CPD: Continuing Professional Development

CPD stands for Continuing Professional Development. It refers to the process of tracking and documenting the skills, knowledge, and experience that you gain both formally and informally as you work, beyond any initial training. It's a record of what you experience, learn, and then apply. 
The term is generally used to mean a physical folder or portfolio documenting your development as a professional. Some organizations use it to mean a training or development plan, which I would argue is not strictly accurate. This article is about CPD as a process of recording and reflecting on learning and development.
The CPD process helps you manage your own development on an ongoing basis. Its function is to help you record, review, and reflect on what you learn. It's not a tick-box document recording the training you have completed. It's broader than that.
CPD Training and Development: What's the Difference?
These terms are often used interchangeably, though there is a distinction. As a rule of thumb, training is formal and linear. It's to do with learning how to do something specific, relating to skill and competence. Training can be as simple as using a PC application and as complex as learning how to be a pilot. Development is often informal and has a wider application, giving you the tools to do a range of things and relating to capability and competency. It involves progression from basic know-how to more advanced, mature, or complex understanding. Alternatively, it can be about widening your range of transferable skills like leadership, managing projects, or organizing information.
Key Features of the CPD Process
To justify the name, a CPD needs to:
What Will CPD Do For You?
A CPD may be a requirement of membership of a professional body. It can help you to reflect, review and document your learning and to develop and update your professional knowledge and skills. It is also very useful to:
ABNLP: American Board of NLP
What Does the ABNLP Says About Itself?

The American Board of NLP was founded in 1995 by Dr. A. M. Krasner as an adjunct to the American Board of Hypnotherapy and has functioned as its sister organization since then. We have a convention every February on President's Day weekend in Newport Beach with the ABH. Today we have over 500 institutes worldwide approved at the Trainer Level of NLP, and thousands of members. We believe in NLP and we believe in Hypnosis as being the most excellent ways of creating our own personal growth and development.
Throughout the world, the standards for each of the membership levels below are pretty much the same. For example, an NLP training in Australia, the UK, or Germany is very much like an NLP Practitioner Training in the United States. Each of the Certified Trainers will cover the same content as is outlined on the pages below.
What differs is the style of presentation, length of time, use of computer graphics, and the use of multi-media learning options. Throughout the world compliance with these standards is voluntary, and so you will also find people teaching NLP who do not adhere to these standards.
We highly recommend our Approved Institutes and when you see the seal of the ABNLP, below, you can be sure that this high level of excellence has been subscribed to by the Training Institute.
Website: www.abh-abnlp.com
Phone: +1-888-823-4823 (US)

Email:

Address:
P.O. Box 531605,
Henderson,
NV 89053,
USA
*Correct as of Dec 2021
ACCPH: Accredited Counsellors, Coaches, Psychotherapists & Hypnotherapists

In their own words:
"The ACCPH is an independent professional body and register for counsellors, coaches, psychotherapists and hypnotherapists. ACCPH is based in the UK but we accept members and accredit courses for organisations worldwide."
A quick introduction to ACCPH; it is an online independent professional body and register for counsellors, coaches, psychotherapists and hypnotherapists.
They aim to serve: 
Professionals who hold recognised qualifications completed by blended and home distance learning. These being of a specific nationally recognised standard. 
Professionals who hold recognised qualifications from attending a course over a period of time. 
Members of the public and businesses who use it are looking for a qualified counsellor, coach , psychotherapist or hypnotherapist. 
NLP World has been accepted by ACCPH, as a training organisation that aligns with their criteria and standards. 

You can become a member with ACCPH, from being trained by us a training provider. That means that you can become a full member just by sending across proof of your certificate and an email to letting him know you came from NLP World.
Website: accph.org.uk
Address:
ACCPH,
11 BizNiz Point,
Crown House,
Dartford,
DA1 1DZ
*Correct as of Dec 2021
SFTR: National UK Therapists Register
What is the National UK Therapists Register?

The Sherwood Foundation SFTR was formed in 2002 (out of pain & suffering) and is now a 'Growing National Register of Therapists'. The Foundation currently has over 2000 listed members including overseas. We are including others weekly as new member details are being queued for entry.
The Foundation is an independent, self standing, self regulating professional body and therapists register which provides a reputable registration with verification and membership for all qualified main stream and multi-discipline/complementary therapists working in or around health practices.
The SFTR's main aim is to provide members of the public and therapists alike a reputable, respected and recognised professional supportive body and register to which professional therapists and students can belong and interact with.
he purpose of this Register is to establish and maintain excellent standards in complementary health and therapy practices. The SFTR is a multidisciplinary professional body, our codes of ethics seeks to address good practice in all our registered members at all times.
NLP World is a training provider associated with SFTR, and you can join the register when you have trained with us.
Website: www.therapyregister.net
Phone: 01527875497
Address:
SFTR,
2 Holt Studios,
49 Birmingham Rd,
Bromsgrove,
Worcestershire,
B61 0DR,
United Kingdom
*Correct as of Dec 2021
TCS: The Coaching Society
What is The Coaching Society?

The Coaching Society is dedicated to advancing the coaching profession by setting professional standards, providing independent certification, and building a network of credentialed coaches. We exist to support and advance the coaching profession through programs and standards supported by our members and to be an authoritative source on coaching information and research for the public.
They are an organization formed by individual members/professionals who practice coaching, including NLP Coaches, Executive Coaches, Leadership Coaches, Health Coaches, Life Coaches, Relationship Coaches, Sports Coaches  and many more, from around the world.
Udemy are an online platform that offer NLP training in a video format. They claim to give a client "100% Official NLP Practitioner Certification iGNLP™ / ABNLP – NLP Get the only Genuine 100% iGNLP™ & ABNLP Accredited – NLP Practitioner Certification Recognised Globally".
That's quite an offer for a low price! But – what the unsuspecting client may find out is that the 'certification' is worthless in the main NLP training field. Many hopeful people ask to join an NLP Master Practitioner Program to continue their NLP journey, and find themselves not eligible because they have not fulfilled even the slightest criteria of what an NLP professional is.
Unfortunately companies such as ABNLP have given their logo to udemy as a stamp of approval and in doing so, undermine the self-regulating integrity of the NLP family.
The other aspect you may want to consider is that Udemy is not specifically an NLP Training company. They are an online platform that provides whatever they can sell. Therefore you will not be buying into an organisation that actually cares about the content.
Excellence Assured NLP Practitioner
Excellence Assured is an NLP platform.
INLPTA: International NLP Training Association
What is the International NLP Training Association?
The INLPTA Mission Statement reads as follows: The purpose of INLPTA is to facilitate the alignment of professional NLP trainers around the world in the ethical and professional use of NLP through the standardization and continual improvement of the NLP accreditation process.
Pursuant to the conduct of this mission INLPTA has formulated a Code of Ethics and a set of Standards for NLP Practitioner, Master Practitioner, Trainer and Master Trainer Trainings. To prepare Trainers and Master Trainers to meet INLPTA's rigorous standards, INLPTA conducts International Trainer and Master Trainer Trainings every year in several locations around the globe.
INLPTA Standard Diploma Prerequisites
None
NLP Practitioner Prerequisites:
INLPTA Standards:
130 hours tuition over a period of a minimum of 15 days (recommended 18 days) formal classroom training.
Certificates
Must be signed by an INLPTA Registered Trainer and carry the INLPTA seal.
Enables:
Practitioners may use NLP techniques for business or personal development and counseling. The certificate entitles them to membership of their National Association for NLP (the ANLP in the UK) and Graduate Membership of INLPTA.
Professional Guild of NLP
What was the Professional Guild of NLP?
As a result of the change in the role of ANLP the body had become less relevant to those training providers who wanted a central body overseeing standards and giving potential NLP students guidance on how to select a reliable and professional training body.
As a result, the Professional Guild of NLP was formed at a meeting in May 2003 near Birmingham. Pegasus NLP along with 8 other of the UK's most respected and long-established NLP training providers, founded the Guild to provide such a resource for the NLP community.
Members of the Professional Guild of NLP agree to adhere to common principles, share a common training approach and code of ethics, and recognize one another's training. The Guild now has around 20 Member organizations in England, Wales, Scotland, and Australia.
Professional Guild Standard
Prerequisites NLP Training Organisation teaching 120 hours contact time practitioner courses.
Practitioner Standard: NLP Practitioner Training are a minimum of 120 contact hours.
NLP Trainers Training Standard:
NLP Training Organisation teaching 120 hours contact time practitioner courses.
NLP Practitioner Standards:
AIP, ANLP, CDP, ABNLP, INLPTA, ICR, Comensa