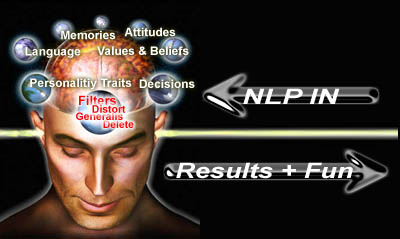 If what you want is NLP Training, then you have come to the right NLP Training landing spot!
I have spent the last 14 years putting together a huge conglomerate of NLP resources, including NLP corporate training packages, health NLP courses, personal nlp training, online NLP training and a myriad of videos, free NLP MP3 audio files for you to get what you want in the world of self-development and corporate change marketplace.
Over the last two years, NLP World has been in America, South Africa, Spain and the UK delivering bespoke training to those who are waking up to what's available to every human being around the world.
At NLP, our motto is "Taking your Training Personally'. What that means is we are committed to getting the results you want from choosing us as your NLP training provider.
But you don't just have to listen to me telling you this; here are what our participants are saying:
"In spite of my initial reservations concerning the relevance of NLP techniques to the wider business environment, this programme provided me with exposure to a range of powerful approaches that I have since successfully applied back in the workplace.  I would recommend this programme to individuals seeking an opportunity to link their professional and personal development objectives.  An excellent course".
Bill Phillips Deputy Director – Department of Health
"The whole presupposition of fun and passionate belief in the material was outstanding and especially the intelligence in the delivery of the training, giving respect to the intelligence of the delegates…passion, love and respect"
Shana Dean – Legal P.A., New York
So as you can see, not only do we provide an NLP Training that ticks the functional boxes, we also provide a space that is fun for learning and respectful of us as human beings.
If you want to see what's on our NLP Practitioner course, click here:
If you want to peruse our NLP corporate training section, click here:
If you are interested in NLP online courses, click here:
If you'd like to experience our NLP free video section, click here:
Let the last words be with the people who matter most of all:
"I have been coaching for many years and I thought that I had my "style" down to a fine art, until, I completed the coaching course & NLP Practitioner Course with NLP World. The techniques that I learnt to apply vastly exceed anything that I have read or experienced, my client-reach is endless and I now offer far more value.
Craig Fourie Duality Coaching founder
"I've attended a great many trainings in my role as CEO of a City Communications business and none have got close to the sequence of deep learning's about myself I have experienced from this training. A big thank you!"
Robin Johnson – Managing Director Ovationxl executive coaching company
Whatever your NLP Training needs, please contact us now to start your internal and external process of change.
Terry Elston
NLP World Director
0044 (0) 1273 220897