Seven Day NLP Practitioner Training Course (including Hypnosis and Time Based Techniques) starting 5th November 2022 (South Africa)
Seven Day NLP Practitioner Training Course (including Hypnosis and Time Based Techniques) starting 5th November 2022 (South Africa)
Location: Constantia, Cape Town, South Africa
Dates: Sat 5th November – Fri 11th November (2021)
To secure your place, you can book online and use the green "Book Now" button (just below) to begin your Seven Day NLP Practitioner Training Registration. The full address is Andros Guest House, Corner Phyllis & Newlands Road, Claremont 7708, Cape Town.
The Full Cost of the Seven Day NLP Practitioner Training is £2900 including flight. Early Bird still active.
Note: If you want the South African adventure and you are coming from the UK or elsewhere, you will have to pay in full. We take care of your booking, plus find excellent accommodation for you.
If you are from South Africa, please make your booking via our SA website https://www.nlpworldsa.co.za/nlp-schedules-dates-prices/
EFT payments welcomed. Here's a link to the booking process via credit card if you don't want to pay through Paypal
Seven Day NLP Practitioner Training Registration:
Payment for our Cape Town experience must be made in full. We then take care of flight, guest house and training. Lunch and break time snacks are also on us in a five star establishment: The payment also gets you your pre-study multi-media program.

Seven Day NLP Practitioner Training Registration: PayPal Information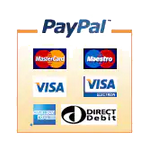 At NLP World, we use PayPal as our payment gateway provider. As a trusted online payment system, PayPal helps to keep your transactions secure.
No PayPal Account?
If you do not have a PayPal account, you can still pay by using either your Credit or Debit card.
On the following form, you will see a section with a link saying "Don't have a PayPal account?".
You can click on the link to pay using your Credit or Debit card as a PayPal "guest", without needing an account.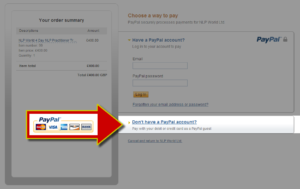 If you're now ready to book your Seven Day NLP Practitioner Training Course, you can click on the "Add To Basket" button above to start the registration process.
Paying For A Course in Installments?
Watch this quick video.

For more help with booking, call us now on +44 (0) 844 057 0392
Alternatively, you can also complete your Seven Day NLP Practitioner Training registration by calling Wesley Kew on: 0027 (0)73 1385536
or our UK number 0044 844 057 0392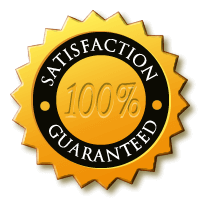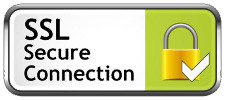 Our NLP World Product Guarantee!
NLP World promises that these products are an excellent training media platform to learn and digest the curriculum of NLP – plus valuable coaching tools that will enable you to perform to your potential.
Seven-day full money-back guarantee if the media is faulty (and can't be fixed) or you can't access the product for some reason.
If you find that it fails to deliver in any way, we will firstly help to resolve any issues you may be experiencing and, if that can't be done, we will give you your money back!
Please Email me, Terry Elston, at  for any more information you need before purchasing.
Remember that all of the videos can either be streamed or DOWNLOADED onto your own PC or Mac, therefore you can still access our high quality content, even if you have a poor internet connection.
We recommend you look at the trailers we have first to make sure you can play videos and look at the images.
Downloadable media content will be provided in a Zip file. Please ensure you have a Zip utility program, which is able to extract the content, and a media player for viewing the videos offline.
You can defer your course if the dates somehow do not fit as it come closer – but, if you wish to cancel a booking before the start – or the failure of conditions above, the following cancellation fees will be charged:
NLP Four or Seven Day Practitioner – £300
NLP Master Practitioner (whole or per module) – £300
NLP Trainers – £450 
Lost Certificate Replacement – £20 
If you have started the course and have to cancel, you can join another course at a later date with only an admin charge for room hire and teas/coffees. If you can not do that, you forfeit your full course fees.
NLP World uses the following 3rd party providers to ensure that transactions and payments are processed securely.