If you ask nine out of ten people that question, you'll probably get answers that relate to fidelity, territory, marriage vows, relationship rules, sticking with a team, loyalty to something or someone and any numerous material or personal translations. Yet what was the original meaning when it was created many thousand of years ago?
To find this, the best metaphor would be valentines day, where the idea is about commitment to a 'special' person. The origin of 'marrying' comes all the way back from celtic times (and before). A bride, was associated with Cros Bride. Cros Bride is a small cross usually woven from rushes. Typically it has four arms tied at the ends and a woven square in the middle. Historically, there were also three-armed versions.
Will you marry me?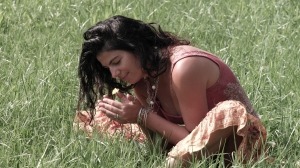 But this was not about marrying a person. It was inviting in the elements of spring and allowing the process of Brightening to occur. Inside the process of nature, seeds need light to be able to transform. So St Bride (as it became in Christianity) was the brightening of the inside, giving the possibility of change.
In this way, you can translate the relationship between a therapist and a client as very similar. The client comes to you 'stuck' in winter with things frozen. Your job is to allow light to come into the situation in whatever way you do as an assistant to their need. It isn't so much about 'fixing' them, but more about assisting the butterfly to emerge from the cocoon, by warming the elements around them and within them up a bit.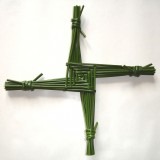 So the real marriage was always to the light. Or in more abstract sense, to the marriage of your Self with your personality. And the four legged 'cross' you see in the picture is the cross of light and matter joining to make things happen. The translation to physical partners came about when we stopped thinking and started accepting simpler notions of how life works from the inside out.
When we think about commitment, it was never about another. It was always choosing your own path in life, committing to your purpose and treading on the stepping stones of personal evolution.