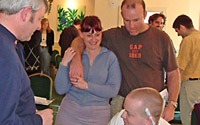 If you want to learn about online NLP training in a supportive, caring, inspirational and non-judgemental environment then this training programme is for you.
If you are looking for conventional NLP training classroom style then please visit this page; click here for NLP Training courses
Remember, booking on these courses is an action in itself and action invites results, so call us now!
"Thank you very much! I have been so amazed by your powerful and insightful method of teaching NLP and it`s a pleasure to go through this Coaching course taught by you! NLP has become my passion and I am looking forward to the time, when I will be able to help people I will be working with, gain balance in their lives".
Marta Moghbel

"I have been coaching for many years and I thought that I had my "style" down to a fine art, until, I completed the  coaching coarse & NLP Practitioner Course with NLP World. The techniques that I learnt to apply vastly exceed anything that I have read or experienced, my client-reach is endless and I now offer far more value.
Craig Fourie Duality Coaching founder
Course Fees:
Bronze Course – £FREE
Silver Modules – £89.99 Each
Silver Module Complete Package – £450.00 (Includes ALL the six modules, saving  £90)!!
What's on the Silver modules?
Gold NLP Certification – £549.99                 What's on the Gold course?
Business in a Box – £199.97 per package – Please note that you must have completed the NLP practitioner course or a full coaching course before you are able to purchase the Business in a box series
This will be your last chance for the discount, so make sure you realise your commitment to training and self-development because it gets easier the more committed you are!
| | | |
| --- | --- | --- |
| FLC Silver Full Membership (NLP World) | £450 | |
| FLC Silver Module 1 (NLP World) | £89.99 | |
| FLC Silver Module 2 (NLP World) | £89.99 | |
| FLC Silver Module 3 (NLP World) | £89.99 | |
| FLC Silver Module 4 (NLP World) | £89.99 | |
| FLC Silver Module 5 (NLP World) | £89.99 | |
| FLC Silver Module 6 (NLP World) | £89.99 | |
| FLC Gold Membership (inc. Silver Full)Sign me up for Silver and Gold for a new career with full support | £999.99 | |
OR CALL NLP World NOW! - 0800 074 6425
email: info@nlpworld.co.uk