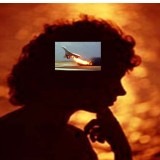 There are as many phobias as names to call them in life – and they all have some certain characteristics that give them a 'personality' to some degree. One of those of course is the phobia of flying. So how do you use NLP in the face of a fear of flying phobia?
Flying phobias can cost a lot of money and loss of resource. Dennis Bergcamp, an ex-Arsenal football player did not travel by air to away matches. How much did that cost his club??
One of these flying phobia cases was captured by accident when i was video interviewed in a "what is NLP" session by Angel Milev. This is what he had to say after only three minutes of talking about the phobia.
"Hi Terry,
 Again, thank you so much for your time, it was awesome talking to you. And you nailed it right on the head with my aerophobia. I was sort of stunned while I was listening to you. Because for like 10 years I had been stuck not being sure which way to go and I tried everything from real estate to outsourcing and screenwriting.
Exactly the reason I created the Art of Being Alive – to figure out what it is that I love doing and finally 'take off'. 
I am sorry now, I didn't confess this on camera, but thanks a lot for pointing my attention in this direction. I would not have made the connection in a million years mind you, I did therapy for three years to find out the very same thing, but didn't get to this point, so I am happy I found you.  Thanks and have a great evening." Angel
So how do you 'cure' the fear of flying? Is it with hypnosis or some other unconscious mind treatment?
Most phobias have a one time 'shock' to the system that the brain then generalises as always going to happen in the same context. The two that are somewhat different are flying and heights. I have found these two to be the hardest of all (saying that i have assisted a client to let go of her heights phobia in 5 minutes one time).
With flying and heights, there is usually an underpinning fear of loss of control. So as well as the fear we have to deal with other 'roots' and not just a one time 'slap' in the brain.
The way I deal with flying phobias is to get into the roots of the fear of loss of control (or that they have no control of the situation) and then the actual brain programming itself. The brain conditioning is the easiest part and takes no more than 20 minutes.There I will play with the submodalities (the smallest particles of a persons inner representation of the phobia), then take them into the fast phobia model from the NLP family of techniques.
I trust this helps those with height or flying phobias that normal interventions have not worked favourably so far.