One of my recent releases, It's Time for Deep Sleep, has got some good reviews and even briefly got into the top 20 on Itunes. This product was the culmination of many hours finding the perfect sound for voice and background.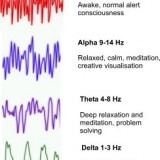 I love the spoken word, so finding the linguistic journey was not so difficult. In fact, I found it easier to have the context and then just let it flow – just as I would if I had a client with me. What that created is the perfect blend of binaural beats/brain entrainment waves, with a hypnotic journey into sleep. I wanted the listener to not notice the binaural beats/brain entrainment waves in the background so the sleep induction feels as natural as it can. Getting the brain into Alpha/Theta brain wave states.
This is what one listener sent to me just a few days back. The feedback does involve other products, yet you get the message and I didn't want to alter her words. She is French so the typos are as they were!
Your recordings are really wonderfull ! I bought several on Amazon. I listened to stress buster, I feel really good. I like a lot your background music. There is a sound I could not identify. It is like somebody breathing in a micro, or blowing air in the micro. Do you have a file on focus and concentration ? I have your file on music for studying but it is not a guided relaxation for focus.
I listened to the deep sleep file last night and I don't remember anything ! I just walk up later with the headphones still on my hears 🙂 Francois Bonnett
Here's an excerpt:
I am now going to bring you through the colours of the rainbow. The colours are red/orange, yellow/green, blue, violet/purple/ and white. As I go through the colors you will go deeper and deeper into natural sleep. On the colour white you will easily and gently reach over and turn off the machine that is playing this recording. After you turn off the machine, you will go into a very deep and very relaxed state of natural, normal sleep.

Red/orange … slowly, calmly, easily and gently going into deep, normal sleep.

Yellow/green … every nerve and muscle in your body is loose and limp and relaxed, as you go deeper and deeper into natural sleep.

Blue … from head to toe you feel good, you feel perfect in every way, you go deeper and deeper into natural sleep.

Violet/Purple … your mind and your body are now going into a very deep and healthful slumber. You feel good, and at the next color, you gently and easily, without disturbing your restful slumber,
Then continue to focus on your brow centre, the third eye area. Keep an unbending focus here. Put all your relaxed, sleep energy here and keep it here.

If you have thoughts in your mind let them drift away like those clouds across a windy sky. When you are ready, you will naturally awaken at the perfect time for your next day of success. You can relax throughout your whole day, even on awakening perfectly.

If you need to, reach over and turn off your audio player, then you go into deep restful and natural sleep for the entire night.

SLEEP NOW. SLEEP NOW. SLEEP NOW.
You can find the audio version of It's Time For Better Sleep, by clicking on this link