The NLP Pocket Handbook is a very useful aide de memoire when you are out in the field, wanting to remember or be inspired by looking at the techniques.
if you think of your NLP manual, it is huge! This has all the same content as your massive manual, yet is only the size of a small book. Of course, if you get the PDF version, it's as small as your mobile phone or Ipad screen.
Here's what's on it:
Table of Contents
Presuppositions of NLP
Keys to an Achievable Outcome
Rapport
Process
Hierarchy of Ideas
Milton Model
Hypnotic Language Patterns
Meta Model
Examples of Triggers in NLP Contexts
SubModalities Like to Dislike Script
SubModalities Belief Change Script
SubModalities Checklist
Anchoring
State Elicitation Script
Collapsing Anchors
Physiology of Excellence
Eye Pattern Chart
Eye Pattern Questions
Conversational Anchoring
Accessing Positive States
Anchoring, Kinaesthetic Version
Application of a Conversational or Tactile Anchor
Collapsing Anchors
State Script for Tactile Anchoring
States for Stacking Anchors
Collapse Anchors for Tactile Anchoring
Strategies
Theory
T.O.T.E. Model of Strategies
Strategies
Questions to Elicit Strategies
Learning Strategies
Spelling Strategies
Spelling Strategies – Installing
Text for Formal Strategy Elicitation
Reframing
NLP Model of Therapy
Parts Integration
The 6 Step Sales Strategy
Negotiating – Influencing
Elicitation of the Time Line
First Test of Elicitation
Discovering a Cause
Scripts and processes
Visual TBT Procedure
Steps for Putting A Single Goal In Your Future
Fast Phobia Model
Logical Levels of Therapy
Therapeutic Process Based on logical levels
Meta Model III From Quantum Linguistics
Directed Questioning for a Specific Result
Quantum Linguistics – TIME SCRAMBLE
An Example of Temporal language
Quantum Linguistics – Reality
Reality is a construction
How We Construct Reality
Quantum Linguistics – Decision Destroyer
……where client says, "I've already decided."
De-Identification Pattern
Quantum Linguistics
Linguistic Parts Integration
Drop Down Through (DDT)
Claire Graves' values
The 3 parts of a values level
The Values Levels
MEME's
The Second Tier — "Being Levels"
Values Transitions
Steps in VALUES Elicitation
Values Elicitation Exercise
Values Alignment
Possible Conflict in Values Hierarchy
Values
SubModalities Values Hierarchy Shift
Values Areas in Our Lives
Changing Values
Metaprograms MPVI™ TRAINING
So, as you can see, everything is here and all at your fingertips or eyesight.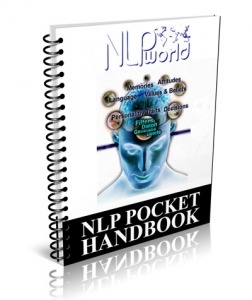 Here's what one customer has said: 
I really enjoy your products and have done for some years. The NLP Handbook is in everyday use!" Geoff Frewin, New Business Director, Frewin Design Consultancy
Order the latest version from Amazon.com by clicking here