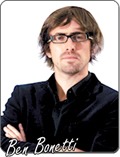 There are many success stories with NLP, none more so than recent news of one of my students (and now good friend) Benjamin Bonetti, has been given several contracts with the BBC and other distribution networks for his books and audio programmes!
Over the last few years Benjamin has gone from strength to strength with success with NLP and now, with the latest production of his hypnosis audios, recorded at the BBC studios is a clear demonstration that anything is possible when "there is no failure only feedback" and "people have all the resources they need to succeed".
I say this because, being part of Ben's journey over the last four years, it was not all easy going, so much so that he wrote a book 'Entrepreneurs Run on Empty',underlying the fact that if you want your own business, you may have to give up a lot of home comforts to do so.
Ben did not have a track record in self-development and his training in NLP and Hypnosis was a beginning of something completely new.
Having mentored Benjamin and seen the development of his "advanced hypnotic technique" it is clear that with the perseverance, belief and determination that anyone can truly achieve the seemingly impossible if you have a chosen path. Yes, there were hardships, yet now his life has completely changed.
In his own words "My life was stressful, my relationship was a struggle and the light at the end of the tunnel was drifting further into the distance, thanks to Terry and the team at NLP World I had a reality check and decided on a better life; it hasn't been easy but through personal belief and the skills learned along the way my life couldn't be any better".
And that's what NLP World stands for. Our motto is "Taking Your Training Personally". That means we are with you for the journey, however long or short that is.
I'm endorsing his work here as he has made these areas his own, researched what people want and delivered on those areas of interest (and pain).
Within his new releases you will find some amazing changes to his previous work, with improved quality and utilising the new "advanced hypnotic technique" these hypnosis are sure to be massive success.
Product Page: http://www.benjaminbonetti.com/products/audiogo-main-page/
Several of his titles have just gone live today on iTunes; If you are interested in purchasing one of this programmes then be quick as the introductory offers usually only last a couple of days after release.
iTunes Product Page: https://itunes.apple.com/us/artist/benjamin-bonetti/id368207645
Having spoken with Benjamin this afternoon, we both would also like to thank you for your support over the last few years and think it's time that we invite you to an evening with Ben & Terry (not the ice cream).
If you are interested please let me know at
On this NLP and success note…remember we are always looking for new articles about how we or NLP has positively improved your life; if you have something to say then let us know and we will include it in our next newsletter.