Hypnosis audio and NLP Business App
I have just had my first App built and approved. It feels like the birth of something brand new in the life of NLP World. I want to keep on going back to my Iphone and opening it, looking and playing with it.
What is an App and how do they work?
App, simply stands for application. They are like mini-websites that you can store on your Iphone, Ipad or Mac and have a load of functionality. That means you can have one little icon on your phone and then be able to download books/audio from it, listen to free samples, check out Facebook/Twitter pages from links and anything else that has been engineered into the App.
In Itunes, search either for my name, Terry Elston or "Transformational Self-Development Hypnosis Audio and Books" and you will find the App. Or search via this link here: Click on Click on "View In Itunes"
What does this Hypnosis and Audio/Books App have on it?
As you can see from these screen shots, it has the functionality for you to listen to a free sample of 14 minutes "Deep Sleep" or to select from 10 other Hypnosis tracks, including: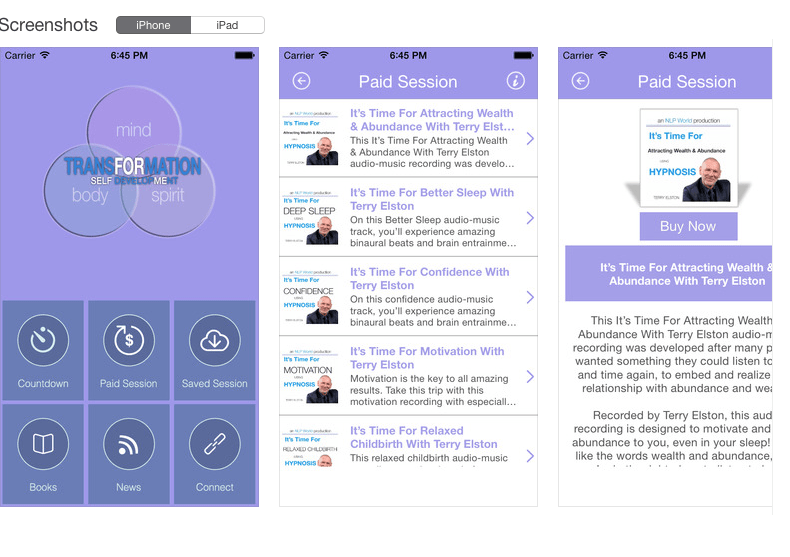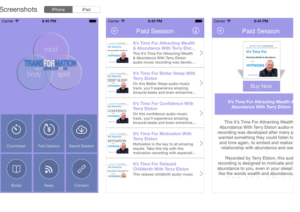 It's Time For Confidence
It's Time For Weight Loss
It's Time For Self-Esteem
It's Time For Stopping Smoking
It's Time For Better Sleep
It's Time For Attracting Wealth & Abundance
It's Time For Releasing Procrastination
It's Time For Relaxed Childbirth
It's Time For Stressing Less
It's Time For Motivation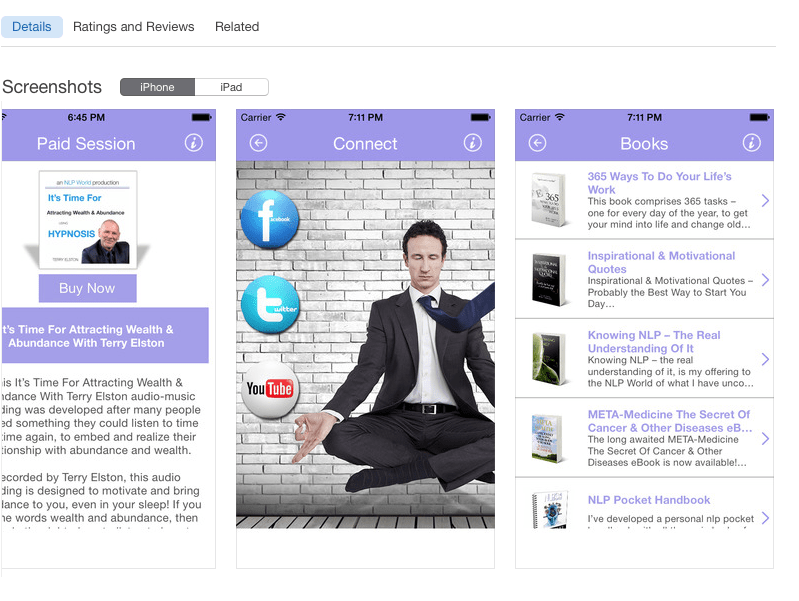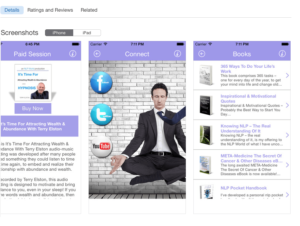 Plus an NLP Business section with titles:
NLP Advanced Presentation Skills
NLP Communication Skills
NLP Interview Skills
NLP Leadership Skills
NLP Motivation Skills
NLP Sales Skills
It also includes my whole book range: Knowing NLP, The Teachers Guide to NLP, The ABC of Abundant Living, 365 Ways To Do Your Life's Work (Elston & Bonetti), Inspirational &Motivational Quotes (Elston & Bonetti). It has the latest blogs from my website, a clock to countdown to your next session you've saved – and that saved option for if you are half way through a session, to come back to that exact important place.
I'm very excited at the birth of this new NLP and Hypnosis App. Take a look here, it's free to download!