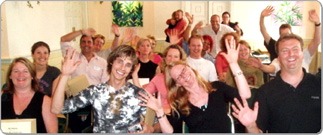 So, What (or who) Is The Best NLP (Neuro Linguistic Programming) Training School? Of course, the question and answer is dependant on what you expect and desire from the course. To find out who is the best NLP training company, you have to look at a few criteria.
1) Are they recognised and accredited?
2) Is the accreditation from an independent body or is the certification endorsed by the same company that gave the trainer the certification in the first place? (therefore not an 'honest' certification and the body that recognises the delegate has a vested interest in the certificates being issued.)
3) Does the NLP training company care whether you succeed in your life/business or not?
4) Will you get adequate support before, during and after your course?
5) Will you have access to the NLP trainers after the training finishes to achieve what you want with NLP?
6) Are their enough assistants to cover the amount of people in the room?
7) Does the NLP company have a policy to limit the amount of people in the room to create enough intimacy and a good learning platform for the delegates?
8). Does the course give you a guaranteed result, both in personal development and the NLP skills?
If you google the generic term 'NLP' you'll come up with about 50 million hits. That's a lot of sorting out to do!
Starting with the above criteria, you should be able to shortlist your neuro linguistic programming training companies down to just a few. Then, the idea would be to phone the NLP companies and talk to the person who will be leading your training (or at least the person setting it up). Talking to the sales guy would not be my optimum way of getting onto the course – they will have been trained to just get you on (and should be good at that, having NLP been trained in sales).
By now, you should be armed with enough questions to really get into the best NLP training company you can imagine. Good luck!