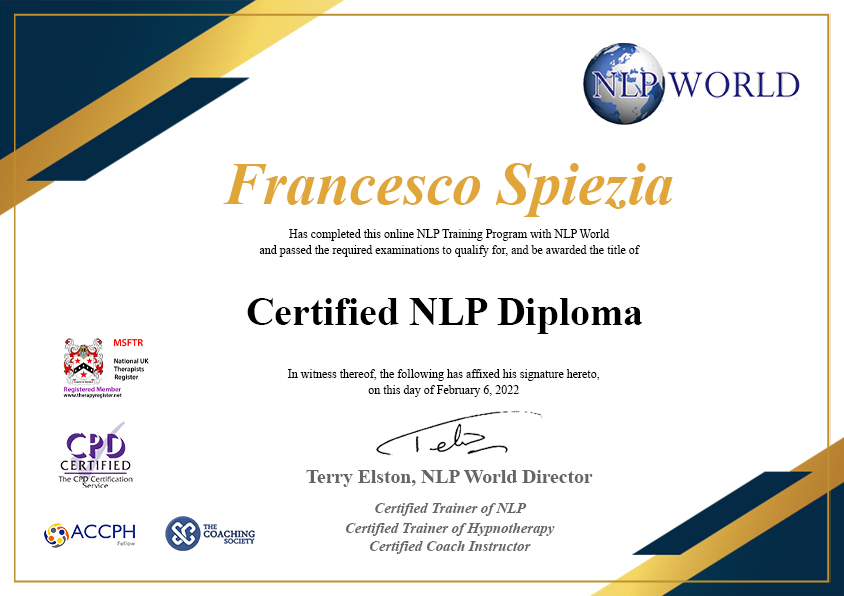 What is the difference between the titles "NLP Diploma" and "NLP Practitioner?"
The term "NLP Practitioner" is reserved for those taking a live training. An analogy would be a doctor who has had his/her live experiences and now can accredit themselves with that title. It would not be correct to give the title "doctor" if they didn't have some experience working with others.
There are some companies who say they give you "NLP Practitioner" status, but when you look carefully it will have 'associate' or something similar next to it. That does not have integrity and is messing with our self-regulation.
We give recognition to your efforts online. After completing each module of the excellent online media program (which includes live footage of clients) – we set you a test: With assistance from us, when you pass, you get the title of "NLP Diploma" in your name.
We have five online programs as such:
Online NLP Practitioner Training
Online NLP Master Practitioner Training
Online Clinical Hypnosis Course
Online Time Based Techniques Course
Online NLP Presentation Skills Course
All the online programs feature live footage of myself working with real life situations that clients say that want resolved. The Online NLP Master Practitioner Training is a fully live media program with one module of powerpoint revision from the Online Practitioner course.
You have access to the trainers and evaluators here throughout the whole experience. The NLP Online program last the life of our website(s). And your back-up is always here.
Other organisations are either brokers for training companies (hence you are not dealing with the provider), or they will not be interested in your progress.
We pride ourselves with caring about your results on the program, and your results in life!
Our NLP Online certificates are recognised and accredited by NLP World Ltd, The Coaching Society, ACCPH and MSFTR.